rue-wireless headphones are no longer too hard to reach like about a year ago. Since the launch of the Pamu X13, there have been many cheap True-Wireless models on the market. In the middle of a cheap True-Wireless forest, whether there are many Cheap ones that are delicious. Today, Xuan Vu Audio will discover 2 new True-Wireless models of 2019: Sabbat E12 and Sabbat X12 Pro to see if the two earphones are like what we expect.
BOXED
Sabbat seems to be quite interested in the formality of the product. Right from the canning way we can see that. The boxes of both Sabbat E12 and Sabbat X12 Pro are presented very bright and beautiful.
Sabbat is aimed at young users, so Sabbat E12 and Sabbat X12 Pro have many different color versions for users to choose. The colors are quite vibrant and eye-catching.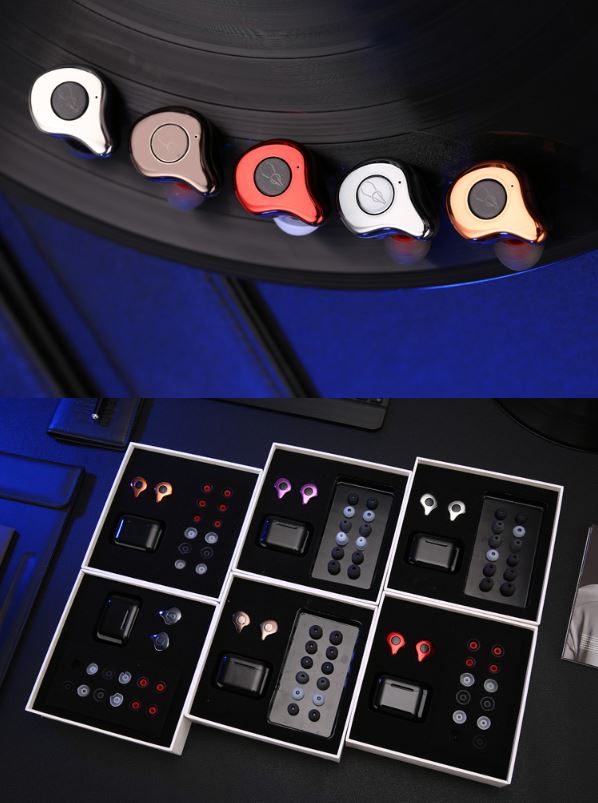 Accessories included of the 2 products are quite complete.
With the Sabbat E12, this is an in ear wireless earbuds, so the accompanying accessory will include several pairs of different sized silicon tips to fit each person's ear. Included with it is a Type-C charger, a small cloth pouch and a user manual.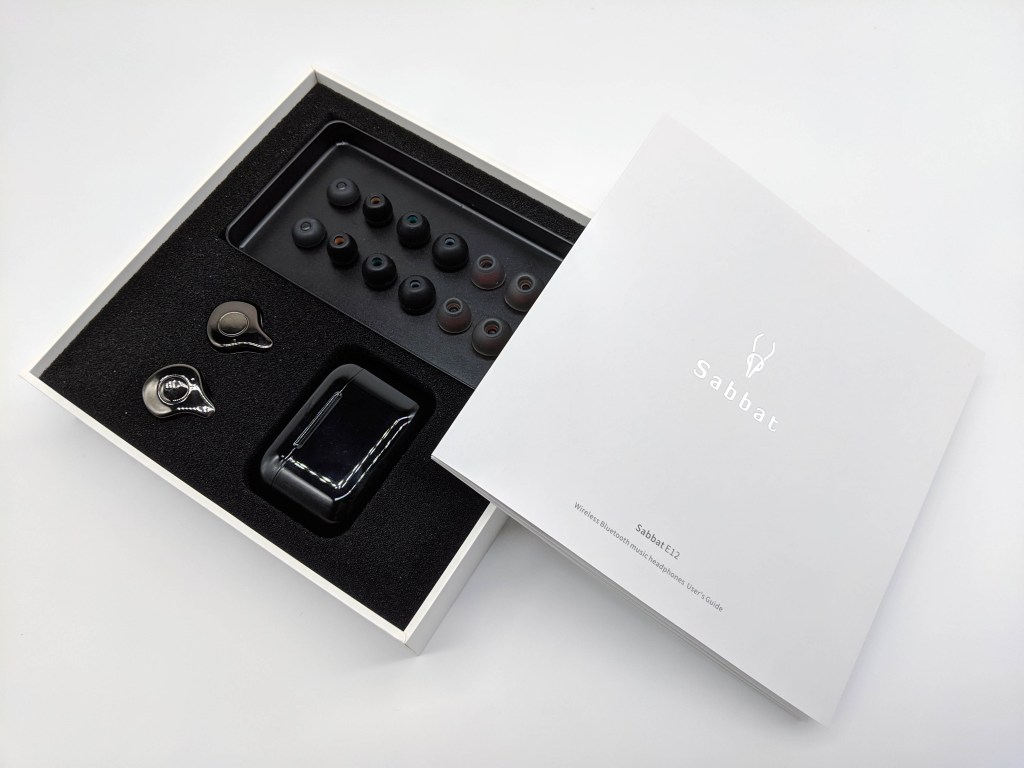 The Sabbat X12 Pro is a bit different because this is an earphone. Therefore, it comes with ear-hook instead of ear-tips like on Sabbat E12. In addition, other accessories include a Type-C charging cable, a cloth bag, a manual.
DESIGN
Sabbat E12 and Sabbat X12 Pro are the same as 2 brothers with different fathers. If you turn the faceplate out, it's hard to tell which one is the E12 and the other is the X12 Pro. Both houses' housing is designed in the direction of the Custom headphones with many bends running in the shape of the outer ear cavity of the wearer. This design looks very professional and pitiful, however, the problem is that it is difficult for small ears to fit.
First up for Sabbat E12 . This is a sample worn in the ear. The tip of the drain is tilted at an angle of about 45 degrees so that it can fit more comfortably in the ear. This design is often found on IEM headsets. The exhaust pipe is of medium length, not too short to be able to insert deeply and make the earphones cling more firmly.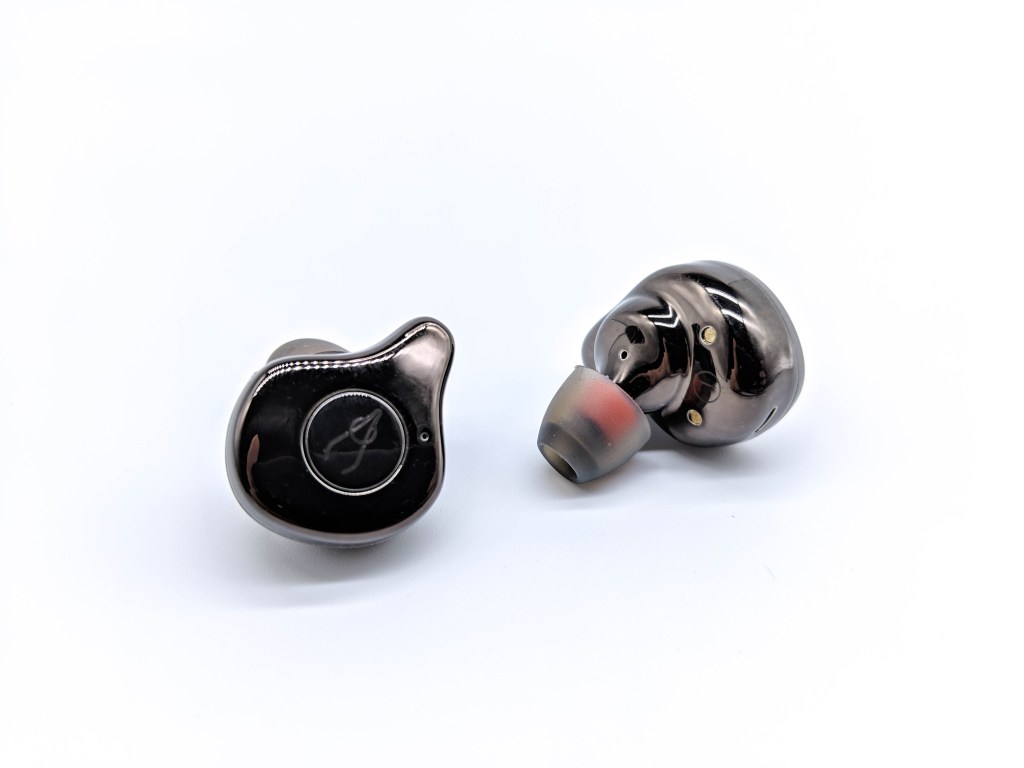 The finishing on Sabbat E12 is quite good but not really excellent as the high-end product. If we pay close attention, we will notice that the plastic links are not seamless and smooth. The glossy plastic surface on Sabbat E12 is quite eye-catching, but it is easy to leave fingerprints when used.
Switch to Sabbat X12 Pro . Sabbat X12 Pro can be considered as the earbud version of Sabbat E12 when this headset is only designed to replace the drain pipe with a shell earbud. And this shell is like 99.99% of some models of Apple headphones. Can't say Sabbat X12 Pro steals the design, that's not fair. Strictly speaking, the Sabbat X12 Pro has learned from the successful design of the Apple Airpods in the shell earbuds when it can be easily worn and causes little ear pain to anyone. However, the housing on the front is quite large, making this earbud shell shallow and may not hold very well on some people's ears.
Regarding the charging boxes of these two products, they are almost exactly the same in appearance. The open-cap design is quite similar to Apple Airpods. Convenient magnet suction mechanism. Compact shape and friendly. The charging port is designed by Sabbat on the back instead of at the bottom of the Airpods. Personally, I think this position is not very favorable, but maybe due to technical reasons, Sabbat is reluctant to do so. Below we have one more row of lights to show the battery level of the charging box. Using the standard Type-C interface instead of Micro-USB like most other brands on the market, Sabbat also seems to be quite agile.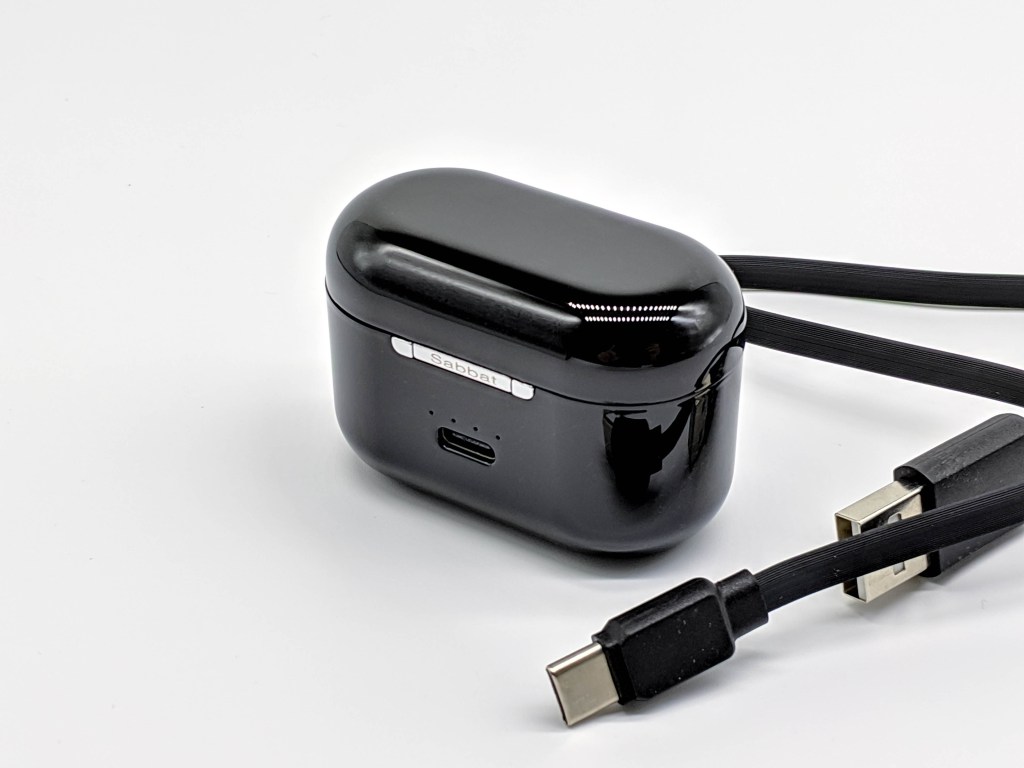 TECHNOLOGY AND FEATURES
For this part, these two headsets are almost identical, but there are some differences that I will point out below.
Latest Bluetooth connection technology 5.0
As you know, Bluetooth 5.0 has been integrated into most high-end smartphones today. It allows for better signal transmission, more stable waves and more battery saving than previous versions of Bluetooth. So Sabbat X12 Pro and Sabbat E12 will be able to connect better, more stable than other cheap True-Wireless headphones with the same range using only Bluetooth 4.0 or 4.2.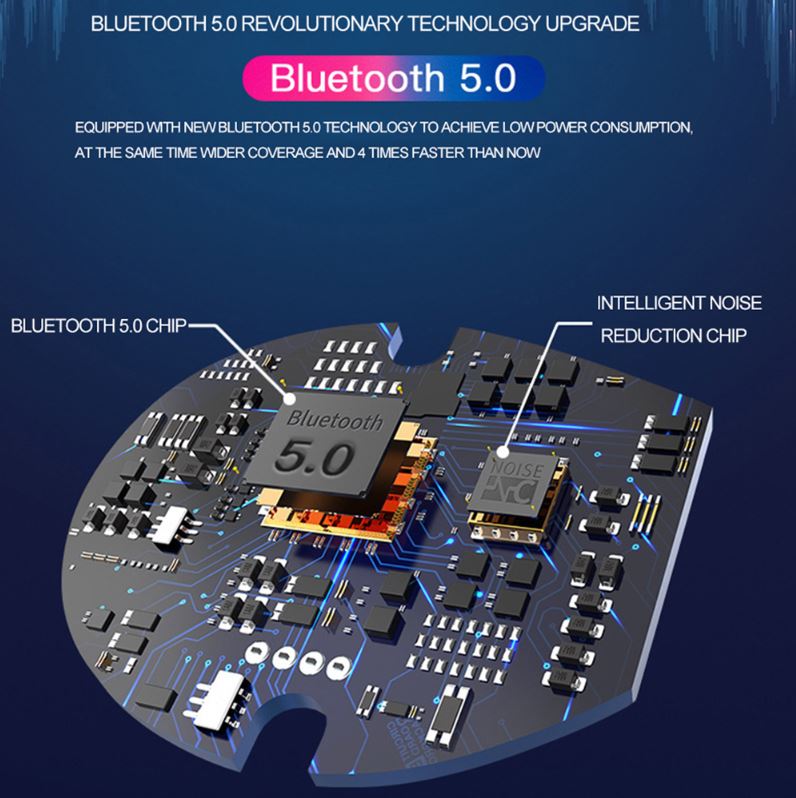 Fast connectivity
Without the power button, the design of the Sabbat X12 Pro and Sabbat E12 has learned from Apple Airpods. You only need to connect once to the phone. When not in use simply put the ear into the charging box. When you need to, take out your ears. There is no need to start each side of the headset like some older True-Wireless models. You will save quite a bit of time when using.
The ability to use each party independently
With this feature you can double the duration of your headset. When you only need to hear from one side, just lift one ear connected and listen. Simple but quite convenient. This can be done on both Sabbat E12 and X12 Pro
Control with only 1 keypress
All operations Stop / Play, Move Cards, Receive / Cancel a call or even Increase / Decrease the volume will be possible with only 1 key press on Sabbat X12 Pro or Sabbat E12.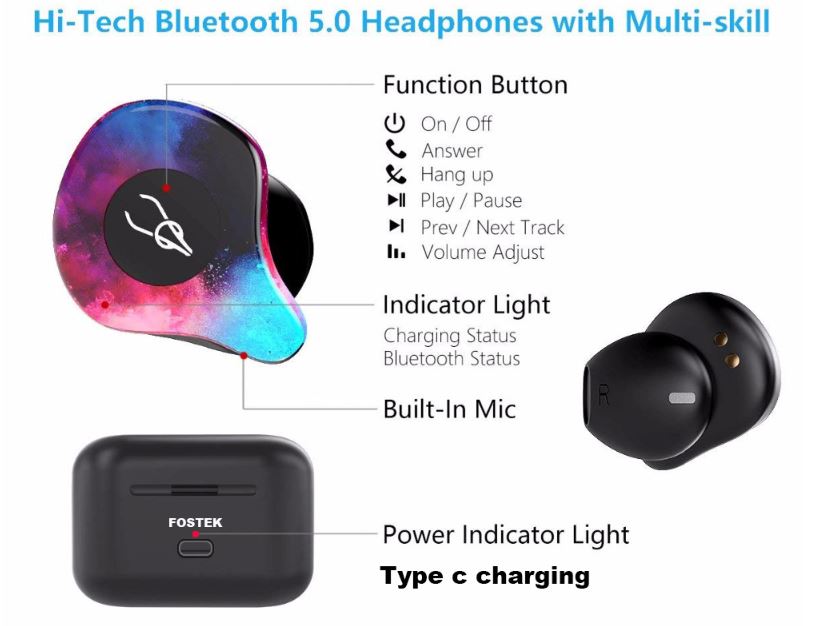 Impressive battery life
Battery life continuous use on both products as announced by the manufacturer reached 6 hours in a row. The Sabbat X12 Pro's charging box gives a total use time of up to 24 hours and with Sabbat E12 is up to 30 hours. Comfortable for all day use without worrying about running out of battery.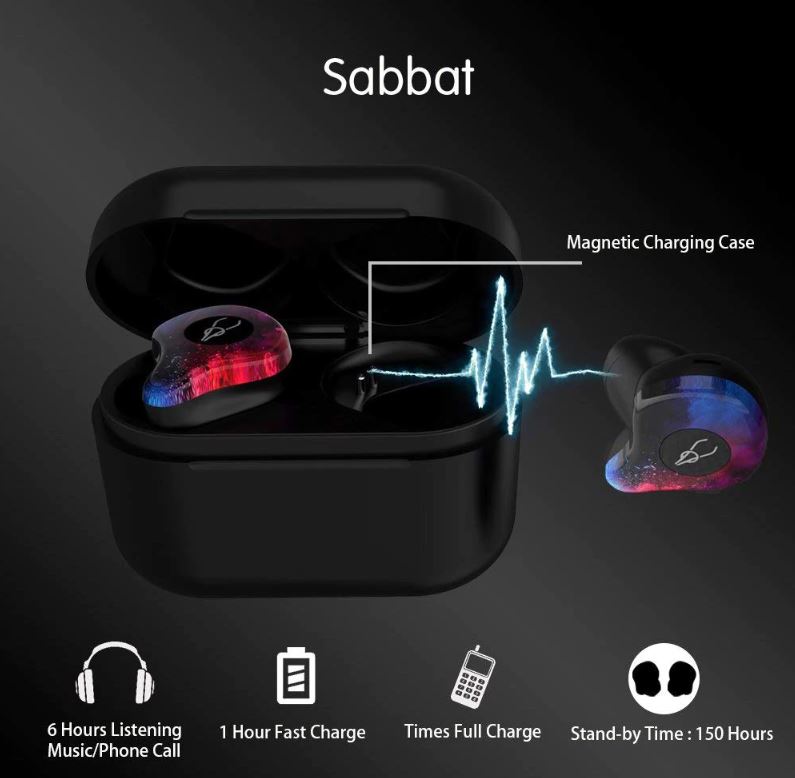 Water resistant
Both the Sabbat E12 and Sabbat X12 Pro are IPX5 waterproof. That means you will be able to wear headphones and exercise without fear of sweat anymore.
Noise resistance
This feature is only available on Sabbat E12. The Sabbat E12 has two microphones on each ear that filter noise when working for quieter sound, better sound insulation when listening in a noisy environment.
Wireless charging
Also available only on Sabbat E12 . Sabbat E12 's charging box is more advanced than Sabbat X12 Pro 's charging box when supporting Qi wireless charging. You can wirelessly charge the charging dock or cross-charge devices that support the same standard.
EXPERIENCE MEASUREING
For me, the feel of Sabbat X12 Pro for better comfort is in-ear form of Sabbat E12. Luckily, my ears didn't face any problems when wearing these two earphones, so I found them to stick quite well. The Sabbat X12 Pro model also comes with an extra earhook for added grip.
If you feel your ears are slightly smaller than everyone's, I recommend you to come and listen to them first to see if these two headphones really fit. Should not be blind-buy to buy cases that do not fit, especially with Sabbat X12 Pro because the shell earbud is quite shallow.
The experience of connecting to both models is simple and fast. Just lift the headset off and connect to the phone, no booting cumbersome.
During the experience, each 2h headset continuously, I did not encounter any drop connection phenomenon. The test environment is in the room. If conditions later I will try to test in the street. Temporarily still quite okay.
The buttons for feedback are quite, not too hard as Bose SoundSport Free .
est watching videos and playing games, the latency is still there but not too uncomfortable. The video has less latency than the game. Especially on Sabbat X12 Pro, the latency for shooters like PUBG or Free Fire is very low. For some reason, the latency of Sabbat X12 Pro is slightly higher than that of Sabbat E12.
CHEMICALS
From the beginning I did not expect much in the professional way of these two headphones. Until now, many wireless headphones for android & IOS had to trade a lot of technology on them with sound quality.
For Sabbat E12, the headset has an in-ear form so the bass is a lot better when compared to the Sabbat X12 Pro. Specifically, Sabbat E12 has a rich range of Bass, taut, thick and bouncing, focusing primarily on mid bass. This bass can play very well EDM market and catchy pop music, which is the favorite music of many customers.
However, when switching to listening to Jazz, which requires headphones to show the subwoofer strip on Contrabass, E12 does not perform well with Bass buzzing and sticking.
Mid range is quite dark and gentle Treb on E12 appears as a background for the bass range. Overall Sabbat E12 bass bass but not rough but quite flattering ear.
Coming to Sabbat X12 Pro, this is a completely different experience. X12's bass has almost no Impact, only present enough to keep the beat of the music. Instead, it was an airy performance by Mid and Treble. X12 Pro's Mid Treb is also not as sweet as on Shozy Hibiki, but it has impressive detail for True Wireless headphones. If with other cheap wireless headsets, I often find the noise of rumbling because the data is not sent enough to the headset to reproduce details, so on X12 Pro almost does not occur this phenomenon. .
SUMMARY
Sabbat E12 and Sabbat X12 Pro are two new True-Wireless cheap headphones equipped with many convenient and easy-to-use technologies. There are many colors and stylish young design. Sound quality of the cheap True-Wireless seems to be still limited, but at this price, it is not bad. If you like a vibrant, powerful bass sound, choose Sabbat E12 and if you only listen to phone calls, listen to soothing music, choose Sabbat X12 Pro. Both are good options in the price range.